Review Article
Application Intelligent Predicting Technologies in Construction Productivity
Faiq Mohammed Sarhan Al-Zwainy1, *, Ali Abed-Alla. Eiada2, Tareq Abed-Almajed. Khaleel2
1Department of Civil Engineering, College of Engineering, Al-Nahrain University, Baghdad, Iraq
2Building and Construction Engineering Department, University of Technology, Baghdad, Iraq
Email address:

(F. M. S. Al-Zwainy.)

(A. Abed-Alla. Eiada)

(T. Abed-Almajed. Khaleel)
To cite this article:
Faiq Mohammed Sarhan Al-Zwainy, Ali Abed-Alla. Eiada, Tareq Abed-Almajed. Khaleel. Application Intelligent Predicting Technologies in Construction Productivity. American Journal of Engineering and Technology Management. Vol. 1, No. 3, 2016, pp. 39-48. doi: 10.11648/j.ajetm.20160103.13
Received: September 5, 2016; Accepted: September 19, 2016; Published: October 10, 2016
---
Abstract: In this paper, it's reviewed the concept and methods of measuring productivity construction and the most important factors affecting on productivity. In addition, the most important applications of techniques (Multiple Linear Regression (MLR), Artificial Neural Network (ANN), and support vector machine techniques (SVM)) in the construction productivity field. Most of the previous studies are interested in identifying the factors affecting the construction productivity so as to achieve control and improve construction productivity and find a mathematical model to estimation construction productivity. Use several techniques to analyze the data of which was used to Identify factors affecting such as (relative importance, quantitative engineering project scope definition, Severity index, sensitivity analysis), and to use them for the development of predictive models such as (Linear Regression, Fuzzy models, Support Vector Machine and Artificial Neural Network).
Keywords: Labor Productivity, Multiple Linear Regressions (MLR), Artificial Neural Network (ANN), Support Vector Machine Techniques (SVMT)
---
1. Introduction
Construction productivity rates are the origin for estimating costs and time accurately that are necessary to finish a project. Productivity is defined as the ratio of output of quality that is needed with respect to the inputs of a certain production condition. In the construction sector, it is normally acknowledged as work output per man-hours worked. "Enhanced productivity contributes in helping contractors and a project owner in terms of it is considered more profitable and efficient. In addition, it also aids them to accurately estimate bidding for projects (Al-Zwainy et al., 2013)".
Labour productivity is a principal part of information for forecasting and planning a construction project.
The present practice of estimation of labour productivity depends mainly on an individual's experience or available productivity data. A systematic approach has a lack in terms of estimating and measuring labour productivity. Even though past project data has significant predictive productivity information, a low quality of past data and the lack of a reliable productivity measurement system could reduce a powerful analysis of labour productivity. (Song and AbouRizk, 2008)
2. Research Aim
The aim of this study is exploring the applications of techniques (Multiple Linear Regression (MLR), Artificial Neural Network (ANN), and support vector machine techniques (SVM)) in the construction productivity field.
3. Research Importance
The prediction methods proposed in this research use Multiple Linear Regression Analysis (MLRA), Artificial Neural Network (ANN), and Support Vector Machine techniques (SVM) methods to provide a forecasting that includes both objective and subjective information. These artificial intelligence techniques either emulate the human ability to learn from past experience and to apply quick solutions to new situations or use analogy-based decisions to propose new solutions. The outcomes expected from this research is presents a useful tool for the estimate engineers who are responsible for predicting construction productivity in their early planning process.
4. Concept of Productivity
Back in 1986, Thomas and Mathews (1986) stated that no standardized productivity definition had been established in the construction industry. It is difficult to define a standard productivity measure because companies use their internal systems which are not standardized. (Hee-Sung, et al., 2005).
In general, consensus is to define productivity as a ratio of output to input. In view of this, two approaches to productivity measurement emerge: total factor productivity where all inputs and outputs are considered; and single factor productivity where a single production factor is taken into consideration. (Smih, 1987).
European Productivity Agency (EPA) has defined productivity as: "Productivity is an attitude of mind. It is the mentality of progress, of the constant improvements of that which exists. It is certainty of being able to do better today than yesterday and continuously. It is the constant adaptation of economic and social life to changing conditions. It is the continual effort to apply new techniques and methods. It is the faith in human progress"
Humphreys, 1991 defined productivity as the ratio of output to input, and can be defined by the following equations.
Productivity Rate = (Total output) / (Total work-hours)(1)
Telsang, 2000 defined the productivity "Productivity is a function of providing more and more of everything to more people with less and less consumption of resources".
Productivity could be defined as "a link between time, cost and quality" (Researcher).
5. Construction Productivity
The definition of construction productivity is difficult, by using the engineering analogy of efficiency, is defined as: (Michael, et al., 2000)
Efficiency = Output / Input (2)
The definition appears reasonable until the input is considered when it becomes apparent that one can use many resources such as labour, plant and equipment, materials, management, fuel etc. some of which are very difficult to quantify. Despite the difficulties, this definition is used to gauge the overall productivity of industry or organization productivity defined in this way is called total productivity. At project level however, it is not very useful and and it is more common to consider the productivity of a subgroup of the inputs and outputs. For example, the productivity measures of a single resources such as labour (partial productivity is the equivalent when more than one but not all the aspects are included). Thus:
Single Resource Productivity=(Total Output / (Total Input) (3)
The further suggestion that the economic productivity (in which both input and output are considered in terms of money) is easier to calculate, it is the physical productivity (such as that of labour on concrete works) which enables a manager to control the construction process.(Michael, et al., 2000).
Productivity is estimated at several levels of information for many purposes in construction sector. For instance, it could be estimated to specify industry trends and to create performance evaluations with other industry sections (BFC 2006). The productivity measurement level of any company or project offers external and internal benchmarks for evaluation with project or company standards (Park et al. 2005; Ellis and Lee 2006). For project scheduling and comprehensive estimating, productivity estimated at an activity level. In addition, productivity at the activity level was usually denoted to as labour productivity because the construction activities are generally labour intensive. It determines the input as labour hours and the output as completed quantities (Dozzi and AbouRizk 1993). Hence, productivity is estimated by labour hours per work unit in addition to the other resource inputs for example overhead costs and equipment, generally being linked to labour hours. Predicting and quantifying labour productivity for comprehensive estimating and planning purposes is the emphasis of this research (Song and AbouRizk, 2008).
6. Productivity Measuring
In broad terms, productivity measures can be classified either as single-factor productivity measures (relating a measure of output to a single measure of input) or as multi-factor productivity measures (relating a measure of output to several inputs) (OECD, 2001).
Because the measured of productivity is vary, so there is no single measure of productivity, (OECD, 2001). Productivity considered by a construction organization in terms of, for example, the cost of placing a cubic meter of concrete, or the time taken to lay a given number of bricks. Productivity measures do not deal adequately with the impact of technological change, or with factor substitution, where capital and equipment may be substituted for labour.
Governments and policy makers measure the relationship between inputs and outputs either as Labour Productivity (LP) (measured either as gross output or value-added per worker, or gross output or value-added per hour) or as Total Factor Productivity (TFP) (measured as gross output or value-added per unit of inputs - with construction sector inputs generally being labour, materials, equipment, energy and capital) (HM Treasury, 2000; Oglesby, et al. 1989). A third type of productivity measure commonly used in US industry is the Total Productivity (TP), described by Oglesby, et al. (1989) as a project-specific model that is the ratio between outputs measured in a physical unit. TFP is widely recognized as a superior indicator to LP in the evaluation of efficiency in the use of resources in the construction sector (Grupp and Maital, 2003; Zhi et al., 2003).
Always there is a misunderstanding about productivity in the minds of the workforce. To the workers, higher productivity means higher workload, higher efforts, and more profits to owners, and unemployment and threat to job security, but these are not correct observations (Telsang, 2000).
7. Factors Influencing Productivity
The factors influencing productivity have been the subject of inquiry by many researchers. In order to improve productivity, a study of the factors affecting it, whether positively or negatively, is necessary. Making use of those factors that positively affect productivity and eliminating (or controlling) factors that have a negative effect, will ultimately improve productivity. If all factors influencing productivity known, it will also be possible to forecast productivity (Lema, 1995). There is two categories of factors that influencing productivity as shown in figure (1) (Telsang, 2000), as following:
a) Controllable Factors (Internal Factors).
b) Non-controllable Factors (External Factors).
7.1. Controllable Factors (Internal Factors)
Some of factors explained as shown in figure 1, as follow: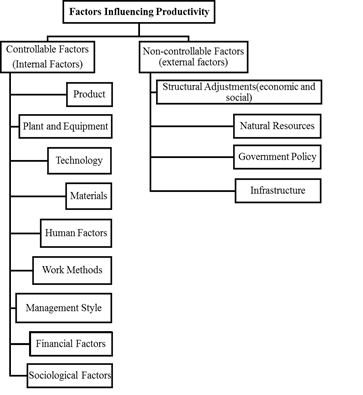 1) Product Factors: Productivity means the extent to which the product meets the output requirements. Product is judged by its usefulness. The benefit factor of a product can be enhanced by increasing the benefit at the same cost or by reducing cost enhancing for the same benefit (Telsang, 2000).
2) Plant and Equipment Factors: Equipment shortage refers to frequent breakdown of major equipment, shortage of spare parts, improper service and maintenance, slack use of machinery or deliberate sabotage by operators. This problem causes major idle time since employed workers are unable to progress their work due to material transportation problems (Zakeri et al., 1996). Productivity can be increased by paying proper attention to utilization, age, modernization, cost, and investment, etc. (Telsang, 2000).
3) Technology Factors: Technology utilization impacts productivity in a number of ways. Historical changes in construction equipment have resulted in sustained improvements in task level labour productivity (Allison, at el., 2009). Innovative and technology improve productivity to greater extent. Automation and information technology helps to achieve improvements in material handling, storage, communication system and quality control. The various aspects of technological factors considered according to (Telsang, 2000) are:
a) Size and capacity of the plant.
b) Timely supply and quality of inputs.
c) Production planning and control.
d) Repairs and maintenance.
e) Waste reduction.
f) Efficient material handling system.
4) Material Factors: Lack of material is the most critical factor causing low productivity. Lack of material refers to the problems encountered due to inaccessibility of items or excessive time expended to acquire them. Because of this, workers are often idle waiting for materials. Construction activities are interdependent; the site management should plan to ensure that the critical materials are available at site all the time. Sometimes, the non-availability of materials was cause by negligence and sabotage. For instances, during bad economic times, the project manager may purposely delay the work progress to prolong the contract period especially those employed on a contract basis (Abdul Kadir et al, 2005 ),
5) Other Factors: Moreover, there are other factors such as human factors, Work methods, and Management style.
7.2. External Factors (Uncontrollable Factors)
There are two main factor group were explained as follow: (Telsang, 2000)
1) Structural Adjustment: It includes both economic and social changes. Economic changes that influence significantly are:
a) Shift in employment from agriculture to manufacturing industry,
b) Important of technology,
c) Industrial competitiveness.
2) Natural Resource: Manpower, land and raw materials are vital to the productivity improvement. (Telsang, 2000). There is also another external factor, which is Government and infrastructure.
8. Applications Productivity in Construction Sector
Below review some of the previous studies about applications about construction productivity in construction sector:
Rojas and Aramvareekul (2003) conducted a study to investigate labour productivity drivers and productivity in the US construction sector. They made surveying for different projects (e.g. contractor, consultant, owner etc.). In this study, it was concluded that the worker management skills and manpower matters are the two core enhancement drivers.
Graham and Smith (2004) collected historical productivity data concerning the concrete supply and in situ distribution for the reason of deriving a forecasting model by using Case Based Reasoning (CBR) principles.
Chan and Kaka (2007) studied the factors of construction productivity in the United Kingdom by conducting a survey based on questionnaire aimed at both blue collar workers and white-collar managers. In addition, in-depth interviews were combined for this purpose.
Song and AbouRizk (2005) used past data to quantitatively forecast productivity by developing an empirical framework (Quantitative Engineering Project Scope Definition (QEPSD). These data include complexity (e.g. fittings number) and steel drafting building elements' type (e.g. beams, columns) with the work hours that is resulted.
Dai et al. (2009) took a "bottom-up" approach by examining the craft workers' perceptions in the US regarding the relative impact of 83 productivity factors (e.g. behavioral issues, safety, project management, communication skills) through a series of focus groups sessions.
Choi et al.(2012) Finding, The poor working environment is an indirect hindrance for the productivity in construction context as well, because it prevents the industry from attracting productive and qualified human resources.
Ulubeyli, Kazaz and Er. (2014) studied factors effect on productivity among members of the construction workforce in Turkey. A survey of 82 construction firms in Turkey undertaken using a questionnaire of 54 questions directed to managers, engineers, architects, and other technical staff. Using the results of the survey, economic and socio-psychological factors that affect labour performance evaluated and discussed in detail. The results show that monetary factors remain pre-eminent in influencing productivity, but that socio psychological factors appear to be of increasing importance in this developing economy.
Hickson and Ellis (2014) this study highlights the factors affecting labour productivity of the Construction industry in Trinidad and Tobago. A questionnaire used to gather the relevant data from members of the Trinidad and Tobago Contractors Association. It involved ranking 42 predefined factors divided into 4 categories: Management; Technological; Human/Labour and External. The Relative Importance of Indices (RII) was determined and the factors ranked. Top factors effect on construction labour productivity in Trinidad and Tobago are ten: the lack of labour supervision, unrealistic scheduling and expectation of labour performance, shortage of experienced labour, construction manager's lack of leadership skills, skillset of labour, delay in responding to requests for information, payment delay, communication problems between site management and labour, rain, late arrival, early quitting, and frequent unscheduled breaks. The research has direct benefits to key stakeholders in the construction industry.
Thomas and Sudhakumar (2014) designed a questionnaire survey of project managers, site engineers, supervisors and craftsmen, in the state of Kerala in India, to identify the factors influencing construction labour productivity. The top five factors identified as having a significant impact on productivity: (1) timely availability of materials at the worksite, (2) delayed material delivery by the supplier, (3) strikes called by political parties, (4) frequent revisions of drawings/design, resulting in additional work/rework and (5) timely availability of drawings at the worksite. The findings provide a better understanding of the factors influencing productivity in the Indian context and will aid construction practitioners in making effective plans for productivity improvement.
9. Applications (MLR, ANN and SVM) in Construction Productivity
Below review some of the previous studies that have used modern technologies in the development of production models in construction sector:
9.1. Applications for Multiple Linear Regression (MLR) in Construction Productivity
Dawood S. (2002) measured the standard productivity of reinforcement concrete building structure and, using Linear Regression (LR) technique to forecasting construction productivity. Moreover, data are collected using direct work study measurement method (work sampling and time study) of work study techniques, through carried out observing (221) samples a span of 10 months for forms and reinforcement of column and slab work including different private and socialist sector in construction of Iraq projects.
Thomas (2009) implemented statistical analysis methods to conduct cause-effect analysis on historical cumulative productivity measurements, so as to evaluate the significance of the learning curve effects on construction operations.
Al-Zwainy et al. (2013) carried out a study to develop a model for marble finishing works of floors in construction productivity forecasting by using Linear Regression technique. One model developed depended on 100 set of data collected in Iraq for different types of projects such as residential, commercial and educational projects. These are used in developed the model and evaluated. Ten influencing factors are utilized for productivity forecasting by MLR model, and they include age, experience, number of the assist labour, and height of the floor, size of the marbles tiles, security conditions, and health status for the work team, weather conditions, site condition, and availability of construction materials. One model built for the prediction of the productivity of marble finishing works for floors. It found that MLR have the ability to predict the productivity for finishing works with excellent degree of accuracy of the coefficient of correlation (R) 90.6%, and average accuracy percentage of 96.3%.
Al-Zwainy and Neran (2016) carried out a study to development a mathematical model for predicting the cost of the communication towers projects. Multifactor linear regression technique is developed and used for predication of the cost of communication towers projects in Iraq. Seven effectiveness factors are used for cost forecasting by MLR model, they involve Security Conditions, Tower Types, Experience of Contractor, Foundation Types, Tower High, Main Cable and Site Area. It was found that Multifactor linear regression has the flexibility to foretell the cost with an excellent degree of accuracy 90.1%, mean absolute percentage error 9.891% and coefficient of correlation (R) was 98.6%.
Tsehayae and Fayek (2016) carried out a study to development the system model parameters comprising factors and practices and work sampling proportions (WSPs) were identified from literature. Field data were collected from 11 projects over a span of 29 months. Activity models based on the relationship between construction labour productivity (CLP) and WSPs were created, and their validity was tested using regression analysis for eight activities in the concreting, electrical and shutdown categories. The proposed system model was developed for concreting activity using the key influencing parameters in conjunction with WSPs. The results of the regression analysis indicate that WSPs, like direct work, are not significantly correlated to CLP and fails to explain its variance. Evaluation of the system model approach for the concreting activity showed improved CLP prediction as compared to existing approaches.
9.2. Applications Artificial Neural Networks (ANN) in Construction Productivity
Moselhi et al (2005) introduced a new neural network model for quantifying the impact of change orders on construction productivity. The study is based on a comprehensive literature review and a field investigation of projects constructed in Canada and the USA. The field investigation was carried out over a 6-month period and encompassed 33 actual cases of work packages and contracts. Factors contributing to the adverse effects of change orders on labour productivity are identified and a model presented earlier is expanded to account primarily for the timing of change orders, among other factors. The developed models, as well as four models developed by others, have been incorporated in a prototype software system to estimate the loss of labour productivity due to change orders. A numerical example is presented to demonstrate the use of the developed model, and illustrate its capabilities.
Ezeldin and Sharara (2006) developed CLP prediction models for forms assembly, steel fixing, and concrete pouring activities using feed-forward back-propagation neural networks, and indicated that the concrete pouring CLP model was the least accurate one as compared to others.
Song and AbouRizk (2008) investigated a way to estimate construction productivity by gathering past project data. In this study, productivity models using historical data were developed. They used steel drafting and fabrication productivities as a sample in their models by using techniques such as discrete-event simulation and artificial neural network. These productivity models were developed and validated using actual data gathered from a steel fabrication company.
Al-Zwainy et al. (2012) developed a model to estimation of the productivity of construction projects. It was found that ANNs have the ability to predict the productivity for finishing works with a very good degree of accuracy of the coefficient of correlation (R) was 89.55%, and average accuracy percentage of 90.9%.
Mady M. (2013) developed an artificial neural networks model for giving an expert opinion to predict the production rate for slabs works. This model consists of input layer with 11 neurons, 2 hidden layer with 6, 4 neurons for first and second layer respectively by Neurosolution software version 5.07 was used to build up the models. The best model was obtained through the traditional trial and error process.
Heravi and Eslamdoost (2015) studied labour productivity of concreting work for gas, steam, and combined cycle power plant construction projects using neural networks.
Khaleel T. (2015) developed a model to prediction the cost of expressway project. The data used in this model was collected from Stat Commission for Roads and Bridges in Iraq. It was found that ANNs have the ability to predict the Total Cost for expressway project with a good degree of accuracy of the coefficient of correlation (R) was 90.0%, and average accuracy percentage 89%.
9.3. Applications Support Vector Machine (SVM) in Construction Sector
Yan and Shi (2010) was the student worker to investigate the use of SVM to predict elastic modulus of high and normal strength of concrete. The elastic modulus predicted by SVM was compared with the experimental data and those from other prediction models (ANN and RA). SVM verified good performance and proven to be better than other models (ANN and RA).
Mahfouz (2012) The researcher used the technique SVM development model productivity estimate steel structure and found that the use of Naive Bayes (NB) model is the most suited among the developed ones, for it has attained the highest performance measures which, Prediction Accuracy of 71%, average recall of 64%, average precision of 59, and average F-Measure of 61%.
Petruseva et al. (2013) this study presented a forecasting model for construction time, using support vector machine (SVM) – recently one of the most accurate predictive models. First, a linear regression model has been applied to the data for 75 objects, using Bromilow's "time cost" model. After that a support vector machine model to the same data was applied and significant improvement of the accuracy of the prediction was obtained.
Mirahadi and Zayed (2016) this research proposed a hybrid intelligent model to enhance the accuracy of productivity estimation for construction operations. The proposed framework has modeled the effect of the qualitative as well as quantitative variables on construction productivity and optimized the dynamic structure of the model according to the inherent characteristics of the data. For this purpose, a modified version of a Neural Network Driven Fuzzy Reasoning (NNDFR) structure was developed.
10. Conclusion
To find out the characteristics and advantages of the current study, the researcher summarized all the previous studies then reviewed the most important differences between past studies.
Table (1) illustrated the Summary of applications (MLR, ANN and SVM) in construction productivity through the data collection methods, used techniques, and results. This table can explain the main points of interest in the construction productivity study:
There is several methods data collection of construction productivity study from them: (Questionnaire, Data based, Interviews, historical data and Work-study). Use several techniques to analyses the data of which was used to:
a) Identify factors affecting such as (relative importance, quantitative engineering project scope definition, Severity index, sensitivity analysis).
b) To use them for the development of predictive models such as (Linear Regression, Fuzzy models, Support Vector Machine and Artificial Neural Network).
Most of the previous studies are interested in identifying the factors affecting the construction productivity so as to achieve:
a) Control and Improve construction productivity and
b) Find a mathematical model to estimation construction productivity.